Mont Vernon NH Bathroom Upgrades by F.A. Bearse
Servicing All Areas in Northern MA & Southern NH
Are you looking to upgrade your bathroom? Look no further! F.A. Bearse has been in business for over twenty years and we've done plenty of bathroom upgrades. We can do a complete overhaul and redesign or make minor adjustments. New floors, new tiles, new splash, new fixtures, and even a new arrangement to make space. Or how about custom built-in features such as a linen cabinet? Do you still have pink tile from the 40s? Don't be embarrassed - we've seen it all. Many homes in New England were built in the housing boom of the 40s and they still, to this day, have the original bathrooms. Wouldn't it be nice to have a new bathroom?
We service most of New Hampshire and Massachusetts so call us today to see if we're available in your area!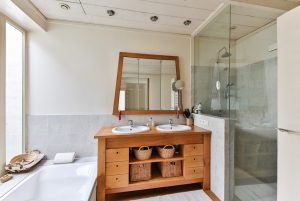 Some home owners know exactly what they want in bathroom upgrades while others have absolutely no idea how it should be tackled. We can accommodate both types. We can work with your ideas and plans, or we can take the reins and help you to create a comfortable space that reflects your personality, your tastes, and provide the functionality you desire.
Bathroom upgrades don't take that long to complete! We can transform your room in a very small amount of time, so don't worry about losing a room for weeks on end. Bathroom upgrades can usually be completed in a  few days.
Give us a call today. And if you're still not sure, check out our references!