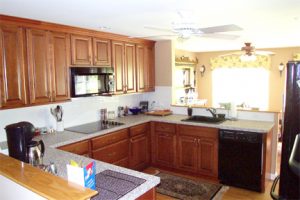 Kitchens and Cabinet Upgrades
Servicing New Hampshire (NH) and Massachusetts (MA).
The kitchen is the one room where members of a family can be found eating, working on homework, talking on the phone or just hanging out with friends. The kitchen has always been the nerve center of the household, and never has the kitchen's central role been more important than it is today. As the centerpiece of the home, there are some interesting alternatives for kitchen that go well beyond the norm. This is why our experience with kitchen remodeling, kitchen design and custom cabinets is so important
We specialize in:
Kitchen Remodeling
Custom Cabinets
Kitchen Design
We provide a plan that includes the three basic kitchen functions to consider for an ideal kitchen: storage, preparation and clean-up.
The kitchen is the most popular of renovation projects. Almost all kitchens in older homes are small and ill equipped for modern life styles. Minor kitchen remodeling can be quite cost efficient and require as little as new floor coverings and painting of the cabinets. Many manufacturers now offer simple refinishing kits that replace only the face and doors of the cabinets, leaving the old shelving intact. Minor face lifts can brighten up a kitchen, but will do little to solve major space or functional problems.
We have completed many new kitchen in New Hampshire and Massachusetts and we boast quite a healthy portfolio of happy customers including testimonials and before and after photos. We can include your new kitchen in an entirely new home addition or bump out that we construct, or we can renovate your existing kitchen. We'll take care of all the details and we'll work with you to make sure that you get your dream kitchen,
Visit our References page to see just a few of our kitchen designs and construction.