New Boston NH Sunrooms by F.A. Bearse
Servicing All Areas in Northern MA & Southern NH
Looking for some sunny extra space? F.A. Bearse is a private home construction contractor specializing in home improvements - both major and small. We are experts in the building and addition of sunrooms for your home. Since we are independent contractors, your new sunroom won't be a "cookie cutter" addition that was pre-built in a  factory. We take the time to craft a one-of-a-kind sunroom to seamlessly match your house and style. It can be basic or detailed and fancy. It's completely up to you!
We do a lot of work in New Boston, NH and the surrounding areas. We service much of New Hampshire and Massachusetts so give us a call today to see if we service your area.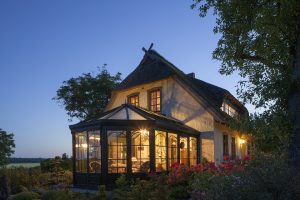 The addition of a sunroom, also known as a solarium or conservatory, often requires major structural changes to the house such as a new point of entry and extra foundation to be added under the area of the new addition. This all depends on the home (there may be a door that can be used) and if you want the sunroom to be insulated and/or heated.
Great ideas for a sunroom are the installation of a wood or pellet stove, skylights, a post & beam ceiling look, and low, built-in shelving. Because our sunrooms are custom built as per the homeowner's request, the choices are limitless.
Please check out our references and when you're ready, give us a call to discuss your new sunroom!